We wanted to create a simple device that provides taco fans mess-free, crispy, and healthy taco shells to enjoy with friends and family. The Taco Tool is an easy to use device for any home, dorm room, boat, camper van, tour bus, etc. to allow oil-free tacos to be enjoyed.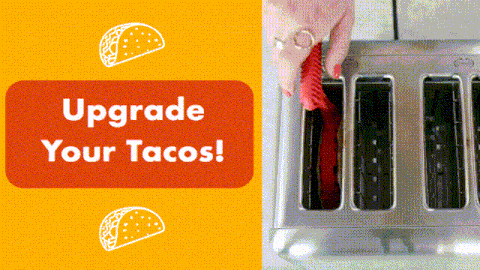 Healthy alternative:
Low Calorie ! Low Cholesterol ! Low Fat Taco
Fresh convenient:
  Create the perfect taco! No oil, no frying and no mess! It is also Dishwasher safe!
Quality:
 approved for direct food contact, BPA Free! Fits all standard toasters! 
Care instructions: Run under cold water after two consecutive uses to cool down material, as device becomes pliable over 525°F 
This tool is suitable for most bread machines
This product is a new tool for making taco, not a toaster, it just happens to be called Taco Toaster
Step By Step:
Heat your tortillas in the microwave for 15 seconds
Then put them on your Taco Tool and toast
The Taco Tool fits all standard toasters
Fits any Standard 5 1/2 inch tortillas
Toast till desired crispness
Toasting duration may vary due to the wattage of the toaster

Packing:
1×Pancake Roaster、2×Pancake Roaster