Unique Women's Handbag Diner Mug with Tray and Spoon, 300 ml Ceramic Coffee Mug, Morning Coffee Mug, Great birthday or Christmas Gifts for Wife and Girlfriend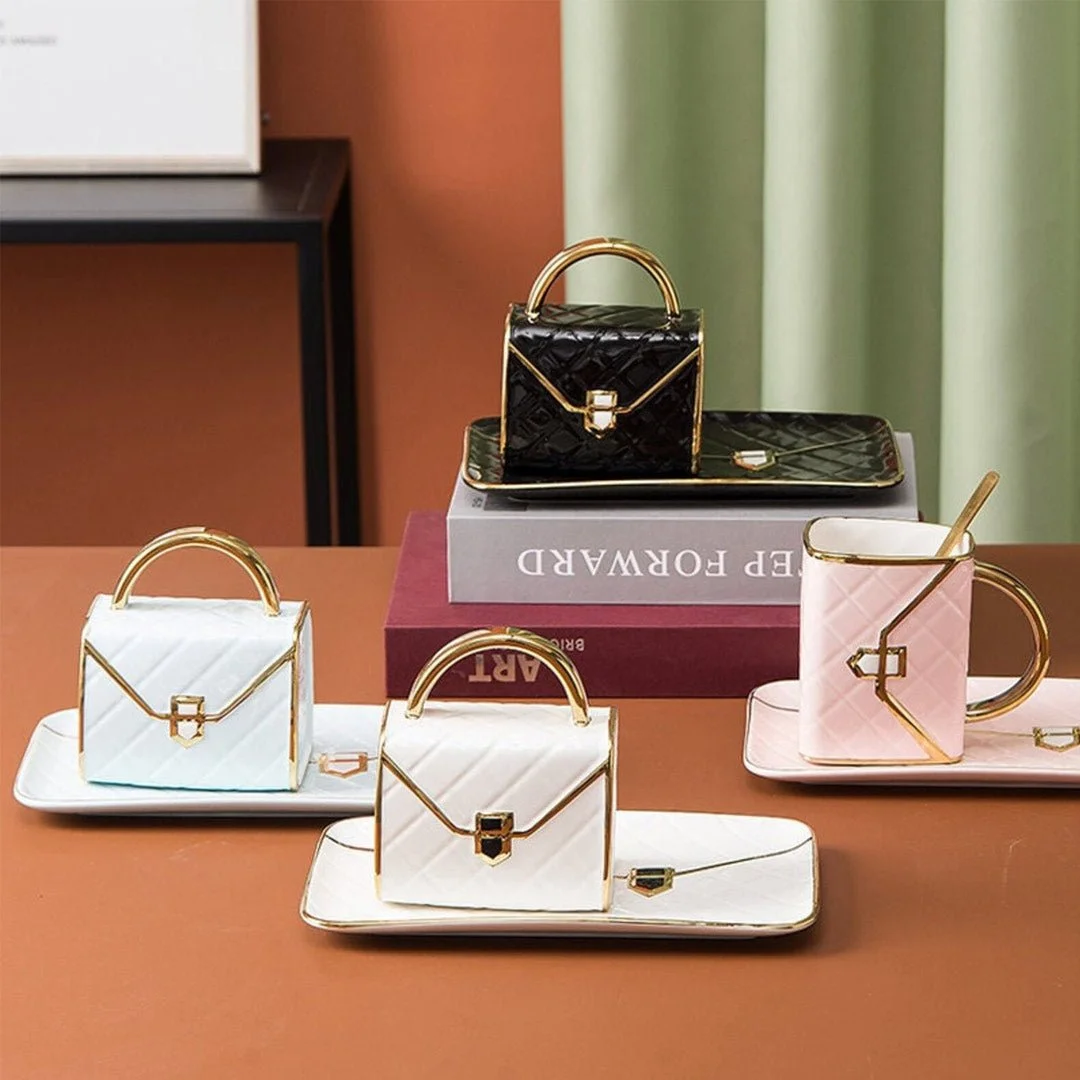 Features:
- Cadmium & lead-free, non-toxic
- Rectangular-shaped saucer cum snack plate with an anti-skid base
- Hand-painted gold rim for the exquisite look
- Polished and mirror-like surface, smooth, glossy, and easy to clean

Specifications:
- Material: Porcelain Cup & Tray w/ Stainless Steel Spoon
- Capacity: 10 ounces
- Package Content: 1 x Cup, Tray w/ Teaspoon
- Dimension:
a. Mug (Diameter x Height): 3 x 3.7 inches (7.5 x 9.5cm)
b. Tray (Length x Width): 8 x 4.9 inches (20.5 x 12.5cm)
NOTE: Size is pure manual measurement with slight error.

Creative Mug to Handbag Lovers
A durable cup with a hand-painted gold handle is unique and worthy of your taste and home decoration. Best to be used as a tea time drinkware and fits your home, restaurant, or cafe's unique theme decoration. Suitable for whoever likes enjoying your favorite drinks from this lovely mug set. Perfect for coffee, tea, cocoa and cereal, water, juice, milk, and orange.

Premium Quality
The cup is made from heat-resistant, durable, toxic-free porcelain, which also resists chemicals and acid degradation. It can withstand the temperature of hot drinks; thus, you can use it with confidence. These cups are created to give pleasure and comfort every day for many years. Feel yourself in a cozy coffee shop each time you enjoy your favorite drink from these cups and enjoy your life.

Care Guide:
- Porcelain and ceramic products are fired at high temperatures, and hence occasionally, there are color unevenness, black and white, small spots of impurities, fine bumps, and other phenomena. We seek your understanding for these minor imperfections and do let us know if you want to learn more by sending us a message.
- You can remove some mild stains with lemon juice and vinegar.
- Do not place this product directly on an open flame to avoid damage or deformation.
- Sharp scraping will inevitably leave marks and affect the appearance
- To maintain the gold pattern of the product, do not put the product in the dishwasher, microwave, sterilizer, and oven.