SIMPLE TO USE & BUILT TO LAST This premium garlic crusher and mincer is constructed from high-quality, food-grade materials meant to extract more garlic paste from cloves. Easy to use with a comfortable ergonomic design for quick results and minimal effort on your wrists and hands. Perfect for professional and home kitchens alike.
CRUSH AND MINCE UNPEELED CLOVES Peeling and chopping garlic can be tedious and messy work. Not to mention the strong odor of garlic left lingering on your hands. Thanks to the heavy duty and ergonomic design of this sturdy garlicpress, you can crush and mince unpeeled garlic in one single move, yielding beautiful and delicious garlic pulp.
EASY TO CLEAN Simply rinse your press under running water or place in dishwasher for thorough cleaning. We recommend rinsing right after use to avoid residual garlic pulp and fibers becoming hardened.
MULTI-USE TOOL Don't have mortar and pestle? Fill the garlic press chamber with coriander seeds, cumin seeds or peppercorns when any recipe calls for "freshly cracked" or "coarsely ground" seeds. This amazing garlic press also enables you to crush ginger, onions and crush nuts. Simply fill the garlic press chamber and squeeze to crush.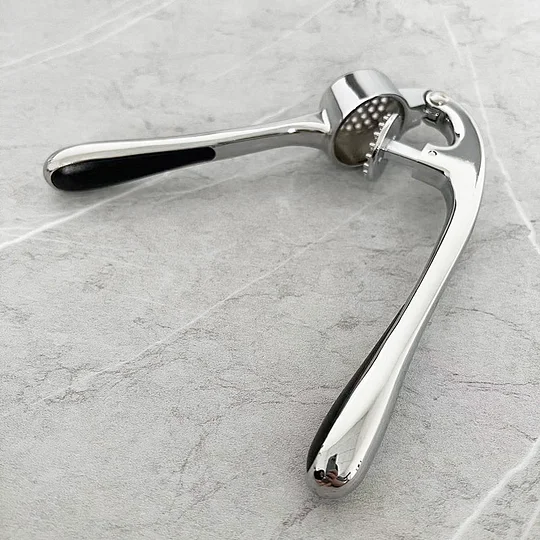 No Time to Peel, Chop and Prep Garlic by Hand?
Heavy duty and ergonomic design squeezer will press, crush and mince garlic in seconds, resulting in uniformly pressed bits of garlic vital to the creation of delicious, home cooked dishes. Especially when a salad dressing calls for garlic. Unlike a dicer, slicer, rocker, cutter, electric grinder, zoom garlic chopper machine or helix press - this garlic press makes prepping simple and gets the job done while keeping your hands safe.
Press, Mince and Crush Ginger, Nuts, Seeds and even Onions!
You can do the same when a recipe calls for onion. Tiny bits of onion and juice work better than the results from chopping or mincing with a knife, grater or other crushers. Simply press the onion through the garlic presser and your recipes will taste amazing!
Pro-Tip
Best Way to Peel Garlic - Place cloves in a bowl, cover with another bowl to form a sphere and shake. The peels will flake off.
Garlic Brings its Distinct and Delicious Flavor to a Variety of Dishes and Powerful Properties that Promote Good Health
For these reasons this Premium Garlic Smasher is an essential gadget that belongs in your kitchen!