PRODUCT DESCRIPTION:
Dumplings mold is so easy and quick to use. You just place a dough sheet on a mold, add filling in every opening, then cover with another dough sheet. After that roll with a rolling pin and you have  19 dumplings at a time. 
Dumplings maker is an Ideal DIY tool for making and tasting homemade manti, pelmeni, shish Barak, ravioli, tarts, cheese puff balls, wontons, dumplings, empanadas, choux, panzerotti, stromboli, Mandoo bar, kreplach, samosas, turnovers, pierogi, potsticker, calzone and more. Use this mold to create a variety of delicious homemade appetizers, meals, and desserts, using savory meats, vegetables, fruits or sweets.
HOW TO USE: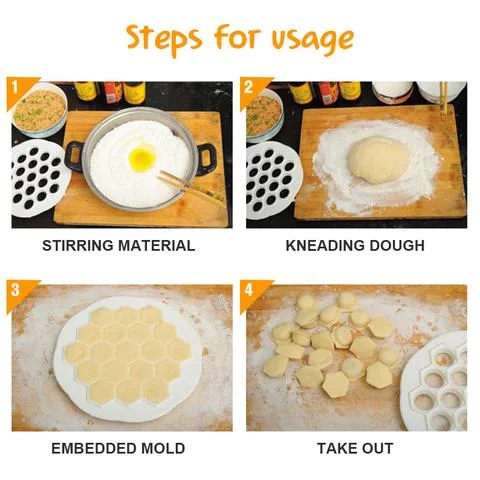 You can make a large batch at one time for great family fun when everyone can get involved and make perfect dumplings. This tool is very popular and saves the dumpling makers a lot of time and should be a must-have item in all kitchens.
 
PRODUCT SPECIFICATIONS:
Material: food-grade ABS
Features: brand new and high-quality
Size: 20.8*20.8*2.2cm
Hole size: 2.9*2.9cm
PACKAGE INCLUDES:
NOTES:
Wash and dry dumpling mold after using.
Use with dishwashing soap and warm water - do not wash in the dishwasher.