Adjustable Bamboo Drawer Dividers Organizers -- Expandable Kitchen Drawer Organizer Separators for Utensils, Dresser, Clothes, Bedroom, Natural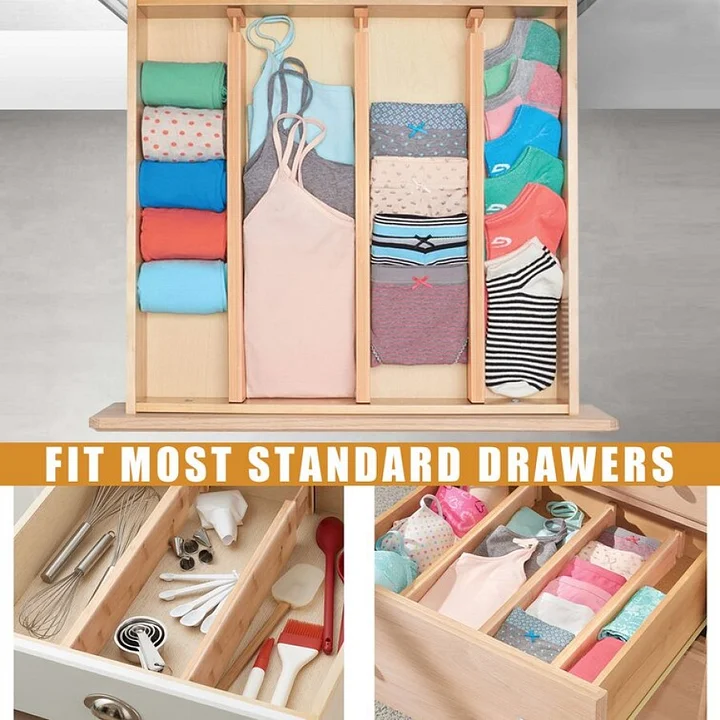 product description:
Size: short(Retractable at 34~43.5cm)、long(Retractable at 45~56.5cm)
Usage:Organizes kitchen, home, and office drawers - Expands from 17½ inches to 22 inches
Material:Bamboo Wood
Special feature:Expandable, Adjustable
Colour:Bamboo
Finish type:Varnished
Mounting Type:In Drawer
Shape:Rectangula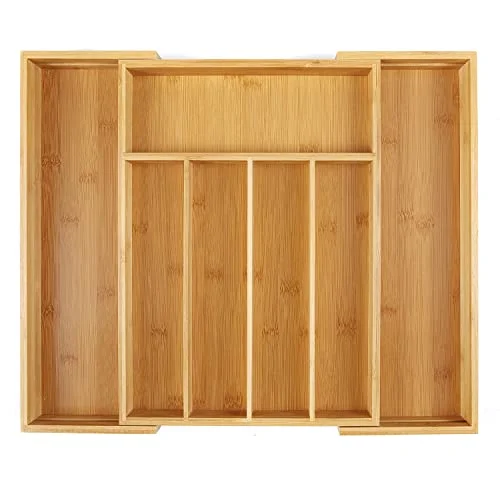 About this item
ADJUSTABLE LENGTH: If your drawer is anywhere between 17.5" to 22", this set of expandable drawer dividers will work perfectly. That's extra convenient for large drawers, where it gets messy quickly.
STRONG SPRING: The drawer separators really bring organization into your home, because they don't wobble or move out of place. With the spring mechanism and foam padding, the wood dividers stay firmly in place.
EASY TO USE: Nothing is complicated. It takes a second to swipe the utensil drawer organizer into your kitchen, bedroom, office or bathroom drawer. And then you have much more organized storage. It's also easy to remove or reposition.
STURDY BAMBOO: The bamboo drawer organizer looks gorgeous in your drawer. It'll actually look like your drawer was custom made. The bamboo kitchen drawer dividers are sturdy and will hold up well with use.
TALL DIVIDERS: At 2.6" tall, the bamboo drawer dividers do a great job at separating and organizing your deep drawers. If more height is needed, stack one on top of the other.
HIGH QUALITY: The bamboo drawer dividers are sturdy, with strong springs that keep them firmly in place. The eva foam at the edge of the bamboo drawer organizers protects your drawer's surface.